Single Tooth Dental Implants – Acworth, GA
Replace Your Tooth Now, Avoid Future Loss Later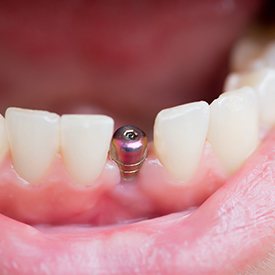 Many people don't realize it, but the moment a tooth is lost is the same moment that other teeth are put at risk as well. The best way to avoid this problem as well as make your smile truly complete once again is by replacing your tooth outright! However, not all tooth replacement methods are created equal. According to Dr. John Hamel, you generally have two options to consider: dental bridges and dental implants. To learn which solution would best suit your needs, give his office a call today!
Main Methods for Tooth Replacement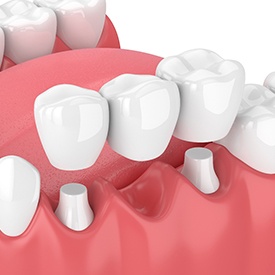 When you want to replace a single tooth, you'll have two options to consider. This includes the more traditional method known as dental bridges and the more modern solution, which is dental implants.
Dental bridges are more complex restorations consisting of several crowns fused together. The crown on each end of the bridge is hollowed out so it can be placed on top of existing healthy teeth, much like singular dental crowns. The difference is the natural teeth are acting as abutments to hold another crown in the center (the pontic) in place. The pontic is the restoration that effectively fills the gap. While this will prevent neighboring teeth from shifting out of place, it will not address the underlying root that was removed when the tooth was extracted.
In contrast, dental implants are designed to replace the entire tooth, which includes the root portion. By doing so, you can expect your jaw to receive full stimulation. This prevents the jawbone from weakening and deteriorating over time.
What to Know About Dental Implant Treatment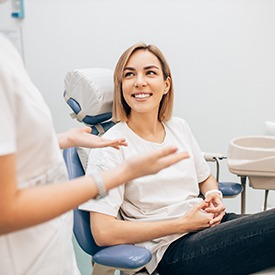 Prior to placing a dental implant, Dr. Hamel needs to better understand the condition of your mouth and jawbone. This planning phase is meant to confirm your eligibility to receive dental implants and ensure your treatment is successful. After multiple X-rays and other exams are performed to evaluate your bone and gum health, you'll know if dental implants are right for you.
If they are, then surgery can be scheduled to have the implants placed directly into the jaw. This is done by making a small incision inside your gum tissue, creating a tiny hole inside the jaw for the implant to be placed into, then closing the gum tissue to give it time to heal. Since the material that the implant is made from (we often recommend ceramic to our patients) is biocompatible with bone, it should integrate with little to no issue whatsoever. However, this process takes time; about 4 to 6 months.
Benefits of Choosing Dental Implants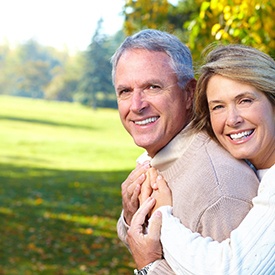 When you opt for a dental implant to replace teeth, you can expect:
Improved longevity over a dental bridge (30 years and longer compared to 10 to 15 years)
Full biting strength, allowing you to eat the foods you've always loved!
The best esthetics possible as blood flow continues to occur, making the face more elastic and youthful in appearance
No need to remove existing enamel like with dental bridges