Emergency Dentistry - Acworth, GA
Help Right When You Need It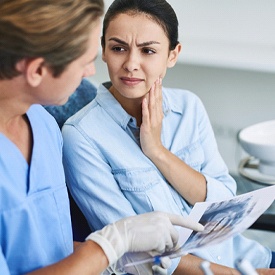 At Biologic Dentistry, we treat dental emergencies all the time, and trust us when we say that they only have one thing in common: they are NEVER planned. While it's nearly impossible to anticipate a knocked out tooth or broken piece of dental work ruining your day, you can still know what to do should the unexpected ever happen to your smile. For the people of Acworth, the plan is simple: call Dr. John Hamel.
When searching for a trusted dentist in Acworth to handle your dental emergency, Dr. Hamel is the clear choice. His knowledge of restorative and cosmetic dentistry is second-to-none, and his holistic focus will help you maintain a high quality of life and overall wellbeing too.
When you call us with a dental emergency, we'll be ready to offer advice, give first-aid tips, and even provide same-day care if necessary. Our goal is to never leave anyone waiting in pain, so when you're in need of dental care FAST, just give us a call, and you can trust us to be ready to help.
How to Handle Common Dental Emergencies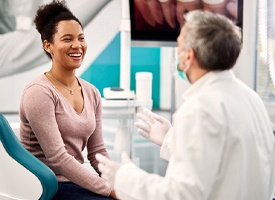 Knowing how to handle a dental emergency isn't always easy, but it is vitally important to ensure you don't accidentally cause additional damage to the sensitive area. Fortunately, Dr. Hamel and his team can provide useful tips and recommendations that will serve to benefit you in your time of need. Even if you are unsure whether or not your situation is an emergency, just give us a call anyway, and we'll be happy to let you know what you should do next.
Toothaches
Toothaches come in all shapes and sizes. One can be caused by a lodged piece of food while another can be the result of a serious infection deep inside the tooth. No matter the reason, it's important you contact us as soon as possible. If something is stuck between your teeth, dental floss is a great way to extract the item and eliminate pain. If the toothache is caused by an abscess or other type of infection, a warm saltwater rinse several times a day can help until you can see us.
Chipped/Broken Tooth
Make sure to thoroughly rinse out your mouth to remove any debris. You will then need to retrieve the broken pieces, if possible, and bring them with you to your appointment. If you have dental wax, place it over the jagged areas of your tooth to prevent irritation to your soft oral tissues. Depending on the severity of the situation, Dr. Hamel may suggest various restorative services to remedy the problem (i.e. dental crown, root canal).
Knocked-Out Tooth
A knocked-out tooth should be cared for as soon as possible. If not seen within an hour of the incident, the tooth may no longer be savable, resulting in discussions about how best to replace the missing tooth. Should you face this type of scenario, retrieve the tooth by its crown and rinse it off. If possible, try to reinsert it into the vacated socket. If you cannot, place it between your cheek and gum or in a container of milk to keep it moist. You will need to bring it with you to the appointment.
Lost Filling/Crown
A lost dental filling or crown should not leave you panicking, but you should alert us sooner rather than later. Although it's not necessary to see Dr. Hamel immediately, it is best if you let us schedule an appointment at your earliest convenience to prevent bacteria and food particles from entering the open area and causing further problems for your oral health.
How to Prevent Dental Emergencies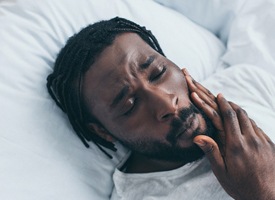 If you want to avoid an unnecessary trip to the dentist's office, you may want to consider following the few simple tips to prevent a dental emergency. Although not all are preventable, there are ways in which you can better protect your mouth, some of which include:
Maintaining good oral hygiene by brushing twice a day for two minutes, flossing at least once before bed, and rinsing with an ADA-approved mouthwash.
Wearing a customized mouthguard before engaging in sports or going to bed (if you are prone to bruxism)
Avoiding hard, crunchy foods that can damage or break your teeth (i.e. hard candy, nuts, ice)
Never use your teeth as tools to open containers or packages
The Cost of Treating Dental Emergencies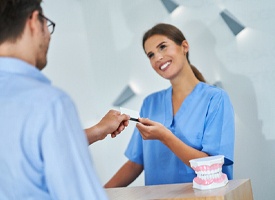 Dental emergencies require an unexpected visit to the dentist's office for a service you were not expecting or planning. While this might not seem like something your dental insurance company will pay for, you might be surprised. Most policies include ample coverage for restorative care. Depending on your individual plan, your insurer may agree to pay anywhere from 70-80% for a minor service and 50-70% for a major service received.
After meeting with Dr. Hamel about your treatment plan, you will need to contact your insurance company to find out about your out of pocket expenses. If you need assistance, our team will be happy to work on your behalf to help you get the answers you need to best manage your upcoming costs.
Dental Emergency FAQs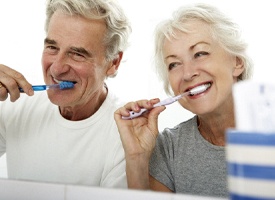 When dental emergencies occur, you should be prepared with all the information you need to handle the situation until you're able to see Dr. Hamel. While it's likely you'll have numerous questions about what to do and how to prevent an injury from happening in the first place, it's important that you also know what to do if one occurs while you're out of town and whether it will be covered by insurance. Dr. Hamel and his team have provided answers to some of the most commonly asked questions for you to review. If you have additional concerns or questions, please don't hesitate to contact our office.
How should I handle a dental emergency while on vacation?
If you suffer a dental emergency while on vacation, make sure you get in to see a local dentist as soon as possible. They will be able to address the problem immediately and get you back to enjoying your time with family and friends. Once you return, make sure we are aware of the problem so that we can determine if you will need additional care.
Should I go to the emergency room instead?
Only if you have a broken or fractured jaw, bleeding that cannot be controlled, or increased swelling around your neck, jaw, or face that hinders your ability to breathe should you visit the ER. Otherwise, your emergency dentist will be able to take care of your injury quickly and effectively. Dr. Hamel has the knowledge, training, and expertise to handle all types of dental problems, ensuring you receive start-to-finish treatment in a timely manner.
Will my emergency visit be covered by insurance?
When speaking to your dental insurance representative about your emergency visit, they will inquire as to what type of treatment you will need before determining if it will be covered. While most companies offer some level of coverage for restorative dental care, percentages will vary, which is why it's important that you or a member of our team learn what the out of pocket expenses will be before agreeing to move forward with treatment.
Why is it better to have a dental emergency treated right away?
Some people believe that if there is no longer any pain, there is no need to see a dentist. This is entirely false and can lead to worsening dental health as a result. No matter if you are still in pain or not, getting timely care for a dental emergency will be beneficial in the long run. Allowing a chipped tooth, soft tissue injury, knocked-out tooth, or abscess to go untreated can lead to an increased risk of tooth decay, gum disease, cavities, serious infection, health-related problems, and even tooth loss.
It's always better to get the care you need sooner rather than later if you wish to maintain a healthy smile for years to come. Your holistic emergency dentist will not only treat your symptoms, but he will also identify and treat the root cause, improving your oral and overall health.
What should I do about the pain?
Because most dental emergencies can cause immense pain, you'll want to take the proper steps to minimize it as much as possible before arriving at our office. Apart from taking an over-the-counter pain reliever, you can also use a cold compress or ice pack to reduce swelling and decreased discomfort.