Teeth Whitening – Acworth, GA
Lift Stubborn Stains from the Comfort of Home!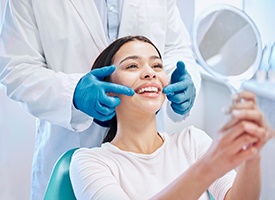 Have you used over-the-counter whitening toothpastes and kits, but been disappointed with the results time and time again? Then invest your time and money in a treatment that will effectively lift stubborn stains and significantly whiten your smile! At Biologic Dentistry, we offer take-home teeth whitening kits that utilize professional-grade bleaching agents and custom applicators, which ensures that you get the beautiful results you deserve while also preserving your healthy smile. If you're ready to schedule your consultation, get in touch with us!
Who is a Good Candidate for Teeth Whitening?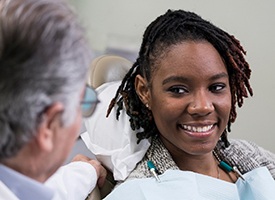 As with any other dental service, candidacy is determined on a case-by-case basis. That's why we recommend scheduling an appointment with our Acworth cosmetic dentists if you are unhappy with the shade of your teeth! During this visit, we will determine what's causing the stains, how severe they are, how bright you want your smile to be and, ultimately, if you are a good candidate for professional teeth whitening.
How Does Take-Home Teeth Whitening Work?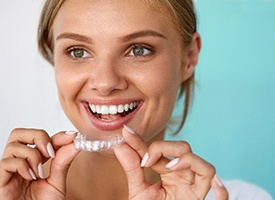 With our take-home teeth whitening kits, you can achieve the results of an in-office treatment from the comfort of your own home! The entire process starts with your consultation, which is when we will learn more about the cause of your discoloration as well as the state of your oral health. If you are a good candidate for this cosmetic dental treatment, then we will provide you with everything you need, including custom trays and a powerful (but safe) bleaching agent. By the two-week mark, your teeth will be noticeably brighter!
Tips for Maintaining Your Brighter Smile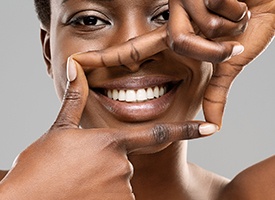 Sadly, the results of your teeth whitening treatment won't be permanent. With that said, there are a few ways you can prevent stains from surfacing, including:
Being consistent with your oral hygiene regimen.
Coming in every six months for a checkup and cleaning.
Using a straw when drinking coffee and other dark-colored beverages.
Eating light-colored, nutrient-dense foods, like oatmeal.
Avoiding unhealthy dental habits, like smoking.
Getting touch-up whitening treatments as needed.