Dentures and Partials – Acworth, GA
Reliable Replacements for Missing Teeth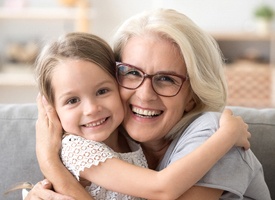 No one sets out to lose teeth as they get older. Unfortunately, depending on your oral hygiene and lifestyle habits, as well as your overall health, losing your natural teeth can be a reality. Without proper treatment, your oral health, facial structure, and self-esteem can begin to decline. Fortunately, our team at Biologic Dentistry want to stop these problems by providing safe and reliable solutions – dentures and partials. Whether you're missing several or all your teeth, these restorative treatments can have you enjoying a new and improved smile that is natural-looking and functional. To find out how you can take back your smile, contact us to schedule an appointment.
What is a Full Denture?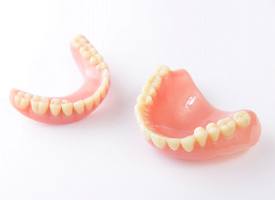 A full denture is used to replace a person's entire row of teeth. Full dentures can be created to replace the top or bottom arch, or both, depending on the patient's individual needs. Using a gum-colored base that is designed to blend in with the mouth and gums, artificial teeth are situated on top of the base. If a patient has any natural teeth remaining, lab technicians will craft the denture in a way, so it matches the size, shape, and color of nearby teeth.
Top dentures are made to cover the entire roof of the mouth, while bottom dentures look more like a horseshoe to ensure enough room for the tongue.
What is a Partial Denture?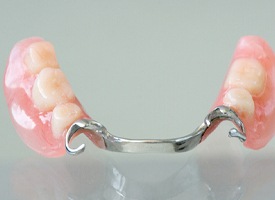 Partial dentures are for patients who have several missing teeth along a row. Fitting much like a puzzle piece, it is designed in a similar way as a full denture, only the gum-colored base includes artificial teeth in the areas where teeth are missing along a row.
Partials are held into place using clasps or clips that are attached to natural teeth, keeping it secure and giving patients greater peace of mind knowing their restoration will not slip or fall out.
Who is a Good Candidate for Full and Partial Dentures?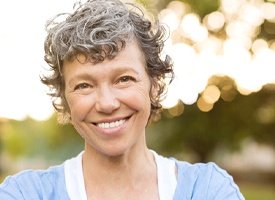 Our doctors understand the toll missing teeth can take on an individual, but by providing a restorative solution such as full and partial dentures, they can help patients feel better about their smile and their overall appearance.
Patients who have lost all or some of their natural teeth and who desire a full, complete smile can be prime candidates for dentures. It is also possible for patients who have experienced tooth loss as a result of gum disease, injury, or serious decay to find hope with full or partial dentures.
Life with Dentures
Living with dentures has tremendous benefits, many of which include:
Regaining your confidence by embracing your new and improved smile.
Preventing changes in your facial appearance that missing teeth can often cause (i.e. facial sagging or collapse).
Improving your oral health.
Restoring functionality, so you can eat, chew, and smile with greater confidence.
But it is important to remember that with a new smile comes responsibility, which means taking proper care of your full and partial dentures. Because they are removable, you will need to clean them daily. By using a soft-bristled toothbrush and nonabrasive denture cleaner, you can remove bacteria and food. You will also need to clean within the grooves of your dentures (the area near your gums) to remove any dental adhesive, should you use it.
At night, while sleeping, you should also make sure to soak your dentures to help them stay moist and prevent dryness. You will want to rinse them off before placing them back in your mouth if you are using a denture solution.
Denture FAQs
Our doctors are well aware that you're likely to have questions about the process of getting dentures and what it's really like to wear and take care of false teeth. To make sure you make the right decisions for your mouth, we invite you to contact us with any questions you have about dentures or to voice your concerns during your initial consultation. In the following section, we've collected some frequently asked questions that past patients have brought to our attention.
How Long Does It Take to Get Dentures?
It will vary from person to person; we can give you a timeline once we've decided what kind of dentures you need. If you're getting full dentures but still have some teeth remaining in the arch in question, you'll typically have to wait six to eight weeks for your mouth to heal after an extraction before you receive your permanent dentures. For patients who are getting implant-retained dentures, it can take four to six months for the mouth to heal after implant surgery; once the implants have completely fused with the jawbone, we can proceed with designing and placing the final restoration.
Will It Be Hard to Talk with Dentures?
Speaking with dentures may feel somewhat unusual at first simply because the inside of your mouth isn't used to it. Over time, your tongue will learn how to move to accommodate your new teeth. You may lisp at first, but this minor speech impediment will go away with practice. To help yourself adjust, try reading out loud and taking the time to repeat particularly troublesome words. It also helps to speak slowly during the initial adjustment period; trying to talk too fast can make your speech come out muffled. You might want to apply a small amount of specialized adhesive to your dentures to hold them in place.
Will I Be Able to Eat Steak with My Dentures?
Steak and other tough meats are often cited as foods that are difficult to eat with dentures due to the amount of chewing they require. However, you may still be able to enjoy steak if it's prepared properly. Ideally, you should stick to tenderloin and other cuts that have less of the connective tissues and muscle fibers that make steak hard to chew in the first place. Have the meat tenderized before it's cooked, and once it's served cut it into small pieces – the smaller, the better.
How Can I Reduce the Cost of Dentures?
Obviously, you'll want to check what kind of coverage your insurance offers for implants. Most plans will pay for about 50% of the cost of dentures. They're also normally covered under Medicaid or Medicare, so if you're eligible you should check to see what benefits are offered. Also, if you find yourself unable to pay the entire cost of dentures upfront, you can apply for CareCredit financing, which allows you to break up the cost so that it fits more easily into your budget.