Dentures and Partials – Acworth, GA
Reliable Replacements for Missing Teeth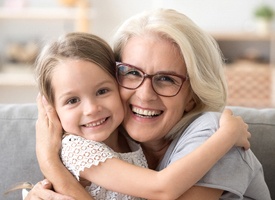 No one sets out to lose teeth as they get older. Unfortunately, depending on your oral hygiene and lifestyle habits, as well as your overall health, losing your natural teeth can be a reality. Without proper treatment, your oral health, facial structure, and self-esteem can begin to decline. Fortunately, Dr. John Hamel and his team at Biologic Dentistry want to stop these problems by providing safe and reliable solutions – dentures and partials. Whether you're missing several or all your teeth, these restorative treatments can have you enjoying a new and improved smile that is natural-looking and functional. To find out how you can take back your smile, contact us to schedule an appointment.
What is a Full Denture?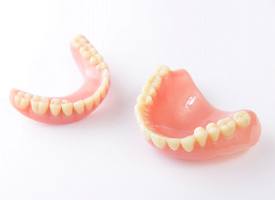 A full denture is used to replace a person's entire row of teeth. Full dentures can be created to replace the top or bottom arch, or both, depending on the patient's individual needs. Using a gum-colored base that is designed to blend in with the mouth and gums, artificial teeth are situated on top of the base. If a patient has any natural teeth remaining, lab technicians will craft the denture in a way, so it matches the size, shape, and color of nearby teeth.
Top dentures are made to cover the entire roof of the mouth, while bottom dentures look more like a horseshoe to ensure enough room for the tongue.
What is a Partial Denture?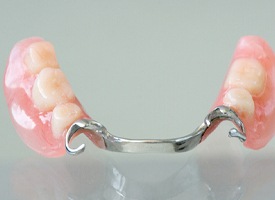 Partial dentures are for patients who have several missing teeth along a row. Fitting much like a puzzle piece, it is designed in a similar way as a full denture, only the gum-colored base includes artificial teeth in the areas where teeth are missing along a row.
Partials are held into place using clasps or clips that are attached to natural teeth, keeping it secure and giving patients greater peace of mind knowing their restoration will not slip or fall out.
Who is a Good Candidate for Full and Partial Dentures?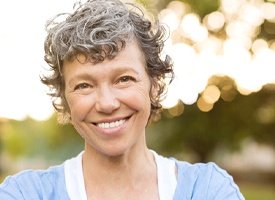 Dr. Hamel understands the toll missing teeth can take on an individual, but by providing a restorative solution such as full and partial dentures, he can help patients feel better about their smile and their overall appearance.
Patients who have lost all or some of their natural teeth and who desire a full, complete smile can be prime candidates for dentures. It is also possible for patients who have experienced tooth loss as a result of gum disease, injury, or serious decay to find hope with full or partial dentures.
Life with Dentures
Living with dentures has tremendous benefits, many of which include:
Regaining your confidence by embracing your new and improved smile.
Preventing changes in your facial appearance that missing teeth can often cause (i.e. facial sagging or collapse).
Improving your oral health.
Restoring functionality, so you can eat, chew, and smile with greater confidence.
But it is important to remember that with a new smile comes responsibility, which means taking proper care of your full and partial dentures. Because they are removable, you will need to clean them daily. By using a soft-bristled toothbrush and nonabrasive denture cleaner, you can remove bacteria and food. You will also need to clean within the grooves of your dentures (the area near your gums) to remove any dental adhesive, should you use it.
At night, while sleeping, you should also make sure to soak your dentures to help them stay moist and prevent dryness. You will want to rinse them off before placing them back in your mouth if you are using a denture solution.