TMJ / TMD Therapy - Acworth, GA
Say Goodbye to Jaw Pain & Headaches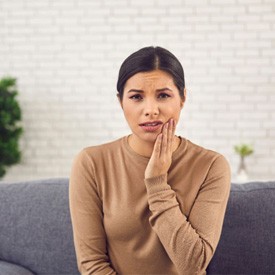 If you put your fingers right in front of your ears and move your mouth, those little hinges you feel are actually your TMJ, or temporomandibular joints. This is what allows your jaw to move smoothly whenever you eat, speak, laugh, or yawn.
Like other joints in the body, it can sometimes develop issues due to strain, stress, arthritis, or injury, leading to what is called a TMJ disorder, or TMD. This dysfunction can cause symptoms such as a stiff and painful jaw, migraine headaches, and even chronic neck/shoulder pain!
At Biologic Dentistry, we're committed to taking care of more than a patient's teeth, so our own doctors are able to diagnose and treat these kinds of issues right here in Acworth. By either slightly adjusting the teeth to even out the jaw or giving a patient a prescription mouthguard to wear at night, we can helpfully relieve a wide variety of orofacial pain.
If any of the symptoms listed above sound familiar, be sure to contact us today to get the help you need.