Dental Implants — Acworth, GA
Strong, Natural-Looking Teeth Replacement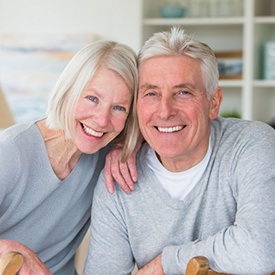 Missing teeth are a problem faced by over 100 million Americans right now, but thankfully, dentistry has developed a replacement that is virtually identical to nature: dental implants. This is the one treatment option that actually restores an entire tooth both above and below the gum line, and now you can get them right here in Acworth thanks to our doctors. Whether you are missing a single tooth or a few, they can use them to help you reclaim your smile for a lifetime. To get started, contact us today for an appointment.
Why Choose Biologic Dentistry for Dental Implants?
Start-to-Finish Implant Treatment
Advanced Dental Technology
Insurance-Friendly Dental Practice
What Are Dental Implants?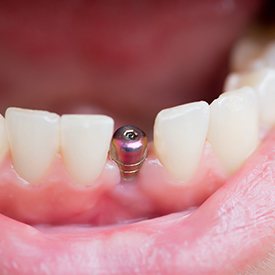 Dental implants are designed to replace the entire tooth, which includes the root portion. By doing so, you can expect your jaw to receive full stimulation. This prevents the jawbone from weakening and deteriorating over time. Once you're all healed up, we'll attach custom-made restorations to the abutments, completing your smile and restoring a fully functioning bite!
Benefits of Dental Implants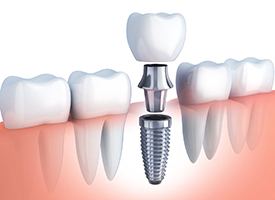 These days, dental implants are often considered the gold standard when it comes to tooth replacement. The primary reason for this is their ability to recreate the entire structure of your missing tooth from the root up. Because of their unique placement, they offer multiple incredible benefits that you simply can't get with traditional options like dentures and bridges. If you'd like to learn more about these advantages, click on the button below!
Day-to-Day Benefits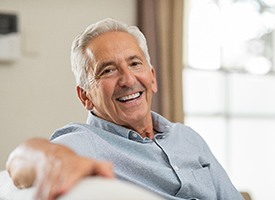 Everyone uses their teeth for basic tasks eating, speaking, and smiling. By restoring your smile with dental implants, you enjoy a solution that'll allow you to live your day-to-day life with ease. Here are some benefits you can look forward to:
Easier Maintenance. Caring for implants is as easy as caring for natural teeth. All you have to do is follow your oral hygiene routine as usual.
Boost of Confidence. Since dental implants stay firmly in place, you don't have to worry about them moving around your mouth. You can use your newly rebuilt grin with confidence!
Ability to Eat Most Foods. Filling the gaps in your grin with implants will help restore your chewing ability, allowing you to enjoy a wide variety of healthy and crunchy foods like vegetables.
Health Benefits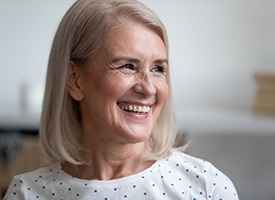 Aside from improving your appearance, dental implants offer many excellent health benefits:
Jawbone Preservation. Implants provide the jawbone with internal support, helping prevent the bone loss that's common after missing teeth. Plus, the posts help maintain the face's overall shape.
Protection for Natural Teeth. If you have any remaining natural teeth, they can shift after tooth loss to fill in the gaps in your smile. Fortunately, implants can help keep every member of your smile exactly where it belongs.
Improver Overall Health. Studies have discovered a correlation between tooth loss and an increased risk of multiple diseases. Because implants mimic natural teeth, it's safe to assume they can help lower such risks.
Long-Term Benefits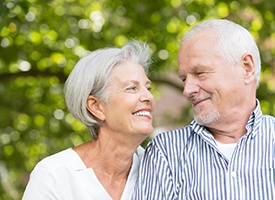 Dental implants can help you in the long term as well with the following advantages:
High Success Rate. Even 20 years after their placement, dental implants have an impressive success rate of about 95 percent.
Maintain a Youthful Appearance. The posts then stimulate bone growth in your jawbone and support your facial muscles, keeping you looking young for years to come.
Long-Lasting Results. Dental implants have the potential to last a lifetime if you take good care of them.
Who Dental Implants Can Help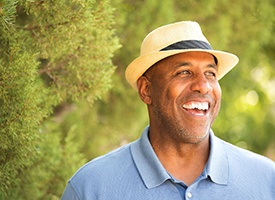 No matter how many pearly whites you're missing, rest assured that there's a way for dental implants to rebuild your smile.
Missing Single Tooth – For a patient who is missing a single tooth, an implant-retained crown can be used to restore the dental structure conservatively above the gum line. The crown will be crafted from high-quality, biocompatible porcelain materials and attached to a connector known as an "abutment" that holds it securely in place over the implant, providing reliable support. The crown fits right in alongside natural teeth and won't require any significant reduction of the patient's natural smile, which is ideal.
Missing Multiple Teeth – For a patient who is missing multiple teeth in a row, an implant-retained bridge may be the right choice for reconstruction. One dental implant will be placed on either side of the gap within the patient's mouth. These implants serve as "anchors" that are then attached to the bridge itself, creating a lifelike, sturdy result that functions as well as natural teeth. This option is much better for whole-body well-being than traditional bridges, which require natural teeth to be filed down to accommodate their placement.
Missing All Teeth – Even patients who have lost most or all of their natural teeth can be viable candidates for dental implants. Implant-retained dentures are available, which can come in full or partial models. This type of prosthetic is most cost-effective on average, as it will be able to attach to a small number of strategic implants instead of requiring one new implant per missing tooth. Depending on the patient's oral health and personal preferences, their new denture can be permanently fixed in place or kept removable.
Link to separate Implant Dentures page
Understanding the Cost of Dental Implants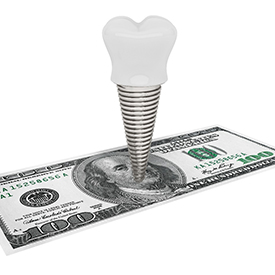 Despite modern advancements in dentistry, tooth loss is still a common problem. Although dentists can preserve natural teeth for longer, at least 120 million Americans have an incomplete smile. Nowadays, there are more options than ever to fill the space; however, only one solution recreates the entire structure of the tooth. A dental implant closely mimics your natural tooth. You've probably heard about their benefits, but you're concerned about the cost of dental implants. There isn't any reason to worry. We offer the affordable options you need to replace your missing teeth without draining your wallet.
Types of Dental Implants
There isn't a set price tag for dental implants because the cost is determined by your specific treatment plan. There are various factors the influence the amount you'll pay, like the number of teeth you're missing and if you require additional procedures. We'll provide you with a custom estimate during your initial consultation.
What Are the Stages of Dental Implant Treatment?
Unlike traditional prosthetics, replicating a tooth will a dental implant involves a multi-step treatment process that can take several months to complete. Each phase has separate fees, which can make it easier to afford your new smile because you won't need to pay the entire amount upfront. While every plan differs, most patients need to pay for:
Initial Consultation: Besides a visual examination, you'll also need a CT scan.
Additional Treatments: Many patients need additional procedures, like periodontal therapy or bone grafting.
Placement Surgery: A titanium implant post is surgically placed into your jawbone to act as a new root.
Abutment: Each post needs a special fixture called an abutment to secure the crown.
Restoration: Recreates the surface of your missing tooth above the gum line using high-quality material.
Are Dental Implants Worth the Investment?
It's true you'll initially pay more for dental implants than other treatments, but they are the most cost-effective long-term. Dental implants have over a 95% success rate to last for decades with the right aftercare, like maintaining your oral hygiene. They are predictable and reliable, so you should never need to pay to have them replaced.
You'll save even more money down the road because a dental implant keeps your jawbone strong to prevent your teeth from moving out of alignment. It will preserve your natural smile to prevent common issues associated with tooth loss, lowering your overall oral health expenses.
Does Dental Insurance Cover Dental Implants?
Most plans can be used to help offset the cost of certain steps in your plan, like the consultation, periodontal therapy, or the restoration. After reaching your deductible, you can use your coverage to lower the amount you will pay until hitting your annual limit. We'll help you maximize your policy to keep your new smile within your budget.
Dental Implant FAQs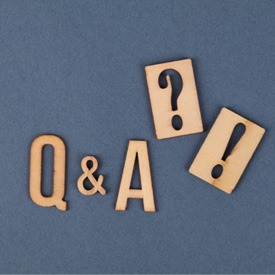 Dental implants in Acworth can give you the next best thing to your real teeth, but they are a lifelong commitment. Don't worry if you have a few concerns because your dentist at Biologic Dentistry will explain everything each step of the way. Here are the answers to the most frequently asked questions to ease your apprehensions until your consultation.
Can I Take Dental Implants Out?
A dental implant is the only treatment to replicate both the root and the crown. A titanium post is surgically placed into your jaw, which your bone will fuse to through a process called osseointegration. As a result, you cannot remove them; however, some implant dentures can be taken out for easy cleaning. Only a trained dental professional can remove them, like in cases of failure.
Am I Too Old for Dental Implants?
There's no age limit for dental implants, but older patients can be at risk of complications. With age comes certain health conditions and medications that can affect your bones or your immune system. If you have pre-existing conditions, you may still be a candidate for dental implants. Your implant dentist in Acworth will learn more about your medical history and any medications you're taking during your consultation. They'll create the personalized plan you need to replace your missing teeth safely.
Does It Hurt to Get Dental Implants?
You will require oral surgery to place your implant post, but you don't have to worry about a painful day in the dentist's chair. Sedation and anesthetic are used to block any pain during your procedure. Although you won't feel anything during your surgery, it's normal for your mouth to be tender for a few days after the effects of any medications dissipate. You can manage your discomfort by taking prescribed or over-the-counter pain relievers and eating soft foods. Applying a cold compress will minimize pain, swelling, and bruising. Follow any additional aftercare instructions to ensure there aren't any complications during your recovery.
What Are the Signs of Dental Implant Failure?
The risk of dental implant failure is less than 5%, but it's important to monitor your smile for any changes that may indicate a problem, like red, swollen, or bleeding gums near the posts. If you have pain when placing pressure on the implant or it feels loose, contact our office right away. Although the early signs of dental implant failure may not appear concerning, quick treatment is essential to save your smile. We will get you into the office quickly and pinpoint the problem to provide to help you avoid dental implant failure.
What Should I Do If My Implant is Loose?
After your jaw has healed, which may take several weeks, your dental implant should never feel loose. If it wiggles, it's a sign of a big problem. Avoid moving the implant with your tongue or finger and get to our office right away. Although it could be something as simple as a damaged restoration, it can also be a sign of an infection or bone loss, which means your dental implants may need to be removed.