Porcelain Veneers – Acworth, GA
Get a Picture-Perfect Smile with Cosmetic Dentistry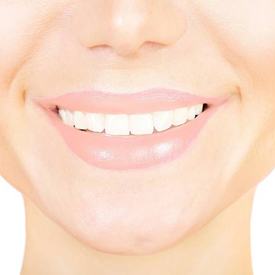 Your teeth are important for more than just chewing and speaking. They also play a crucial role in how you feel about yourself and how others view you. If they are less than perfect, it is easy to feel insecure about your looks. Whether due to poor oral hygiene, genetics, trauma, or other factors, your flawed smile causes you to isolate yourself from certain situations. What if you could drastically improve your confidence with attractive teeth? Now you can with porcelain veneers in Acworth. With cosmetic dentistry, you can get the smile of your dreams.
Benefits of Porcelain Veneers
Our doctors pride themselves in providing holistic dentistry to not only promote your dental health but your overall well-being. With porcelain veneers, you will enjoy a safe and effective solution to enhance your smile.
By bonding the thin shells to the front surfaces of your teeth, you instantly cover the flaws that cause you to feel insecure. Since porcelain is thinner than other materials, less of your tooth's structure needs to be removed during the bonding process. With more of it left intact, it makes the procedure minimally invasive.
After just two appointments, you will enjoy an array of benefits:
Look and feel natural.
Improve confidence.
Promote your oral health.
Minimally invasive.
Drastic results.
Long-lasting solution.
Am I a Candidate for Veneers?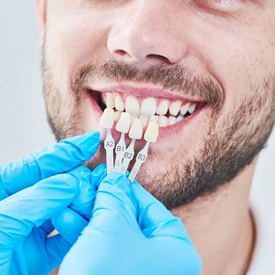 Veneers are quite versatile, allowing them to be used for several purposes, such as to hide dark tooth discoloration. Your teeth will become whiter and stay bright because porcelain is stain-resistant. They are often the ideal solution to resolve chips and cracks while improving the appearance of shorter than average or abnormally shaped teeth. You can also cover alignment concerns, like gaps, without wearing braces.
Generally, if you have good oral health, you are a candidate for the procedure; however, you will still need a thorough consultation with your cosmetic dentist. They will create a customized treatment plan to transform your smile.
After your teeth are cleaned and one of our doctors remove small amount of enamel, digital impressions are taken to craft your veneers. They are made to meet your exact size, shape, and color needs in a dental lab. Once they are finished, your veneers will be bonded to your teeth.
How to Maintain Your Veneers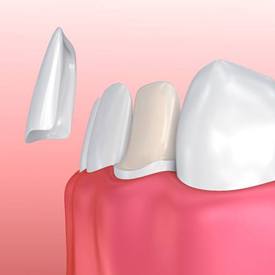 Porcelain veneers provide you with an effective solution that can last for several years. On average, they need to be replaced about every 10 years, but there are many things you can do to promote their longevity:
Brush your teeth twice a day and floss nightly.
Use a soft-bristled toothbrush and a nonabrasive toothpaste.
Visit your holistic dentist twice a year for a cleaning and checkup.
Do not chew on inedible objects, like your nails or pens.
Do not use your teeth as tools, like scissors to open packages.
Wear an athletic mouthguard when participating in sports.
Improve Your Confidence Today!
You do not need to hide behind flawed teeth. You can get the smile you have always wanted with your cosmetic dentist. Contact our office today to see if porcelain veneers are right for you.