Children's Dentistry – Acworth, GA
Holistic Care for Precious Young Smiles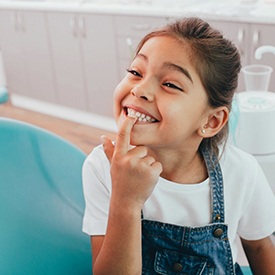 There are few things as precious and heartwarming as a child's smile, and that sweet little gesture is all the more endearing if it is healthy. That is why our doctors and team are committed to serving as top-quality children's dentists in Acworth. Our positive attitude, gentle touch, and high-quality holistic treatments will establish a foundation of oral health for your child that will help them to enjoy a lifetime of strong, healthy smiles.
Your Child's First Appointment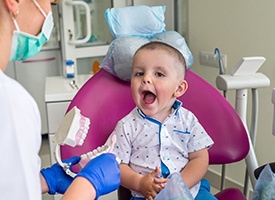 Children should have their first appointment with a kids' dentist around the time their first tooth erupts, or before they reach one year of age. At this visit, we'll examine your baby's tooth (or teeth) and check to make sure that their oral structures are developing properly. We'll also answer any questions you may have about teething, thumb sucking, and how to brush and floss your child's teeth at home. You are welcome to hold your child on your lap during their appointment to help ease any anxiety they might feel.
Services for Growing Smiles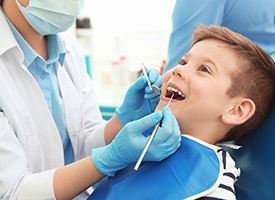 After your child's first appointment, you should bring them back to us once every six months or so for a cleaning and checkup. We'll look for any signs of developing oral health problems, thoroughly clean the teeth, and provide your little one with age-appropriate education on the importance of oral health. If we notice any causes for concern, we'll design a treatment plan to get your child's smile back on track.
We may also recommend additional preventive services. For example, dental sealants are an excellent way to reduce the risk of cavities on molars and premolars. The sealant process is fast, painless, and noninvasive. A sealant places a barrier between a tooth and food particles that might otherwise get stuck in its grooves. Sealants can thus provide years of protection against decay.
Home Care for Children's Smiles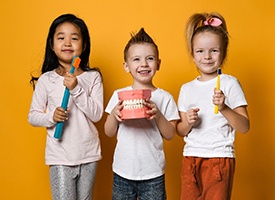 Oral health awareness should be part of your family's everyday routine. That is why we always give parents tips on how they can help their little ones to care or their teeth and gums. Here are some examples of the advice we typically offer:
Supervise your child's brushing and flossing. You should brush and floss your child's teeth for them until they develop the strength and dexterity to do so on their own (usually when they around 6 years old or so). Once they start caring for their own oral health, you should supervise them until they master proper techniques.
Purchase the right products. Find a toothbrush for your child that has a big handle and small head. When you put toothpaste on the brush for them, use only a pea-sized amount. (For children under three years of age, a dab of toothpaste the size of a grain of rice is recommended.)
Choose tooth-friendly snacks. Many foods that are marketed to children are full of sugar. Try to train your child to develop a taste for healthy snacks, like fruits, vegetables, and nuts.
Would you like our team to help your child enjoy all the benefits of sound oral health? Contact us today to schedule an appointment or to learn more about our services.