Implant-Retained Dentures – Acworth, GA
Give Your Denture a Better Foundation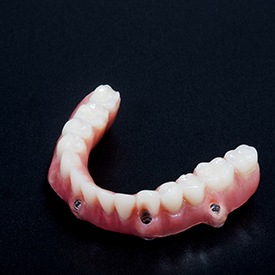 Have you recently had teeth extracted and are now considering a denture to rebuild your smile? Have you been using a denture for a long time and aren't satisfied with how it currently fits? If so, you just may want to speak with holistic dentist Dr. John Hamel and his team to determine a better and more long-term solution to your problems. With an implant-retained denture, you can expect a tooth replacement that's able to actually keep up with your lifestyle. Give our office a call and we'll get you started on the right path!
How Do Implant-Retained Dentures Work?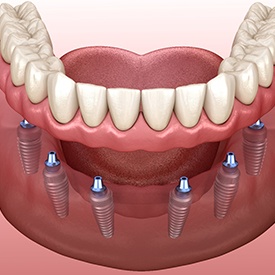 An implant-retained denture is designed to attach to a series of dental implants that are surgically placed inside of the jaw. This is dramatically different than what you'd expect from a traditional denture, which largely relies on natural suction and the shape of the mouth to stay in place. The number of implants that are placed largely depends on the amount of available bone tissue. However, as many as four or more implants are generally used to hold either a top or bottom denture. During your consultation, we'll be sure to confirm what your needs will be upfront.
Am I A Candidate for Implant-Retained Dentures?
While more patients are eligible for implant-retained dentures than ever before, including those who have had traditional dentures for a long time, there are still a number of qualifications you should have before you can receive dental implants safely. For one, you should have sufficient bone tissue inside your jaw as well as healthy gum tissue that can heal around the implants once they are placed. During your exam, we'll capture many detailed images and X-rays of your mouth in order to better confirm the condition of your oral health. From there, we'll have a much clearer picture of your treatment plan.
The Implant-Retained Dentures Procedure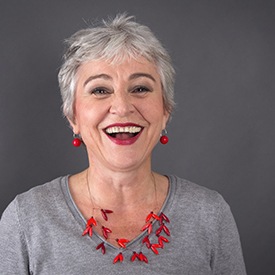 Following the planning of your procedure for implant-retained dentures, the surgical portion of treatment can begin. This involves providing you with local anesthetic to remove any sensation during your care. Then, assuming no other teeth need to be extracted beforehand, a series of small incisions are made in the gum tissue and tiny holes are made to make room for the eventual implants. After they have been placed, the gums are closed, and the implants can begin integrating with the jaw. Over the next several months, you'll come back for follow-up visits to confirm the implants are integrating as intended. Once they are, a permanent restoration can replace the temporary restoration given to you following your initial surgery.
Benefits of Combining Dentures & Dental Implants
When you use dental implants to hold a denture, you're getting a tooth replacement that is:
Longer-lasting overall (averaging about 30 years and more of use)
Providing a stronger biting force for eating the foods you love
More natural-looking thanks to the ceramic and acrylic materials we utilize
No longer slipping and sliding out of place