Restorative Dentistry - Acworth, GA
Puts Smiles Back Together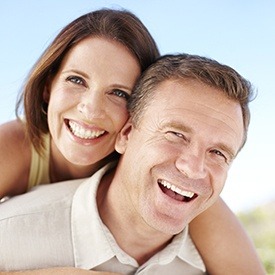 Natural wear and tear, decay, and even trauma can leave the teeth looking and feeling far from their best, but for the people of Acworth, bringing back their original smile is easier than ever thanks to our doctors. Using the latest technology and biocompatible materials, they're able to personally design and place dental restorations that look natural, function wonderfully, and don't affect a patient's overall health. Whether you have chipped, cracked, decayed, or missing teeth, they're ready to help you, so contact us today for an appointment.
Traditional Dental Crown & Bridge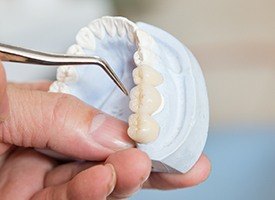 Crowns and bridges are two of the most tried and true treatments in all of dentistry when it comes to repairing damaged teeth and even replacing missing ones. A crown is a tooth-shaped restoration that can be used to fix a large cavity, broken tooth, or even cosmetically enhance a tooth that is undersized or misshaped. And, by attaching a pair of crowns to a prosthetic tooth, this can help form a bridge to close a gap in a patient's smile.
Tooth-Colored Fillings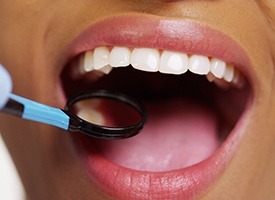 Instead of repairing small cavities using amalgam, which is notoriously full of mercury, we instead use composite resin-based tooth-colored fillings. This is a safe plastic/glass mixture that we can specially shade to blend completely into a patient's enamel. Plus, it also requires less of a patient's tooth to be removed while being placed, helping to preserve more of a natural tooth's structure and strength. In the end, you get a tooth that both looks great and can be trusted to last.
CEREC® Dental Restorations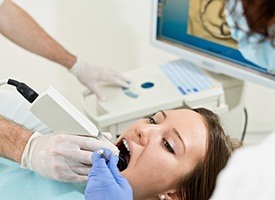 Most other practices will take at least two visits spaced about a week apart to repair a tooth with a dental crown, but at Biologic Dentistry, we're able to complete the process in half the time thanks to our CEREC technology! With it, we can design, fabricate, and place a completely custom-made dental crown in just one easy visit. CEREC crowns rival any lab-made crowns in quality, and in the end, this method allows you to spend less time in our office and more time simply enjoying your beautiful smile!
Dentures & Partial Dentures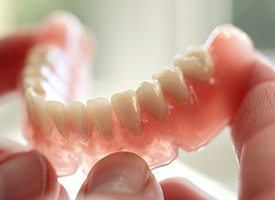 For those who are missing multiple teeth, dentures have provided a relatively quick and easy replacement for decades. And, thanks to the latest advancements in dental prosthetics, they are now smaller, sleeker, and more natural-looking than ever. Partial dentures fit into the mouth like a piece of a puzzle to restore numerous teeth, while a full denture can be used to instantly bring back an entire row. We can even provide a patient with implant-retained dentures so they can enjoy the most secure fit possible.
Extractions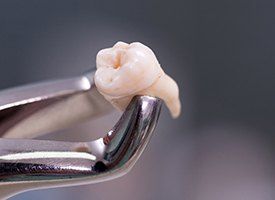 While our number one goal is to help our patients preserve their natural teeth for as long as possible, sometimes, the best thing we can do for their oral/overall health is removing one. We typically choose to extract a tooth if:
It is too damaged or decayed to be repaired
Gum disease has weakened the bone supporting it. It refuses to fall out/is blocking an erupting adult tooth (primary teeth only)
Room needs to be created for a denture/upcoming orthodontic treatment
It has become painful, impacted (stuck), or infected (which is usually the case with the wisdom teeth)