Oral Cancer Screening – Acworth, GA
Detect Cancerous Cells Early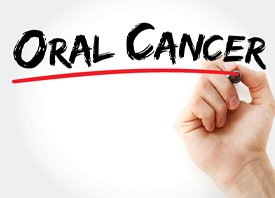 The American Dental Association recommends you visit your dentist at least twice a year for a cleaning and checkup, but did you know there's another reason for routine appointments? Your preventive visits are essential for more than just keeping your teeth and gums healthy. They also allow our doctors to monitor your smile for signs of oral cancer. Although you may not think you're at risk, nearly 50,000 people are diagnosed with it annually. You can benefit from the power of early detection with an oral cancer screening.
What is Oral Cancer?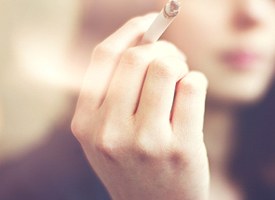 Oral cancer is classified as those that affect the head and neck; however, brain cancer is in a separate category. Despite advancements in modern medicine, the 5-year survival rate is a little over 50%. Often, oral cancer is not found until it has reached advanced stages or metastasized to other areas of the body. It's believed, dentists can detect as much as 80% of new cases early through routine screenings.
Am I at Risk of Oral Cancer?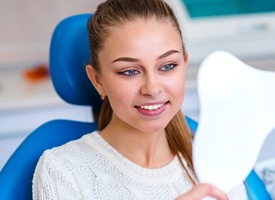 Oral cancer can affect anyone, no matter their age or gender. Although it's only thought to affect smokers, 25% of newly diagnosed oral cancer cases never tried tobacco. While smoking does significantly increase your risk, there are other factors as well, including:
Heavy alcohol consumption
Poor oral hygiene
Inflammation from ill-fitting dentures
Human papillomavirus
Family history
What are the Symptoms of Oral Cancer?
Oral cancer can produce a variety of symptoms, which may not seem concerning at first. Don't wait to contact our office if you develop any signs, such as:
Sores in the mouth that bleed or won't heal.
Swelling or thickening of the oral tissues.
Rough, scaly, white, or discolored patches in the mouth.
Growths or lumps.
Persistent pain or numbness.
Sore or hoarse throat.
Difficulty speaking or moving your tongue.
Changes to your alignment or bite.
Feeling like something is caught in the throat.
What Can I Expect During an Oral Cancer Screening?
An oral cancer screening is a simple, painless process that could save your life with early detection. During your routine examination, our doctors use their special training and advanced technology to detect cancerous or precancerous cells early.
While examining your teeth, they'll also check your oral tissues, including your lips, gums, tongue, throat, neck, and cheeks. They may use a special light and glasses to highlight concerning areas that might be missed with the naked eye.
If they detect anything abnormal, they may arrange for you to have a biopsy to remove a tissue sample. It will be tested in the lab, and they'll inform you if you need to take any further action.
Schedule an Oral Cancer Screening Today!
Don't wait until it's too late. If it's time for your next preventive appointment, be sure to have an oral cancer screening, too. Although there aren't any specific guidelines in place, our doctors recommend you have one no less than annually.
Contact our office today to schedule an appointment for your oral cancer screening.