Implant-Retained Bridges – Acworth, GA
We Make Your Smile Complete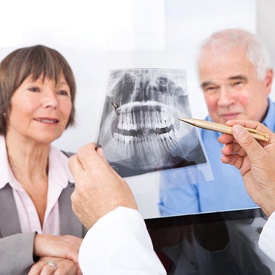 If you're missing multiple teeth, you may be starting to notice that the gap in your smile is growing wider by the day. Furthermore, chewing your favorite foods and speaking may have become more difficult than you expected, even if you're missing as few as two consecutive teeth. If you're looking for a way to rebuild your smile, look no further than Dr. John Hamel at Biologic Dentistry! With dental implants from his office, you can effectively replace teeth safely and reduce your risk for future tooth loss along the way. On top of that, you can retain your existing tooth enamel by pairing your implants with a dental bridge. To schedule an in-person consultation, give our office a call!
Missing Two Consecutive Teeth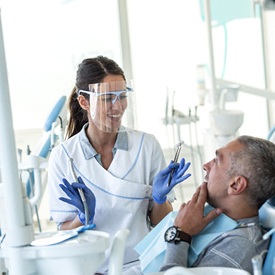 It's surprising how difficult it can be to chew food even when you're missing just one tooth. However, two missing teeth means you have bigger problems on your hands. For example, your jawbone can quickly begin to deteriorate and lose strength. If you have two missing teeth, you do not necessarily have to replace both teeth with a pair of dental implants. In fact, a single dental implant can often hold two crowns fused together.
Missing Three or More Consecutive Teeth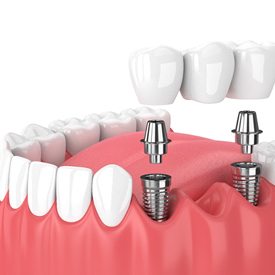 In a traditional dental bridge, two dental crowns are attached to a single pontic (prosthetic tooth) that fills the gap in your smile. The crowns are hollowed out, just like when a crown needs to be placed, and then bonded to natural teeth, which provide stability. Instead of modifying existing teeth, we can easily attach the restoration to a pair of dental implants. Essentially, it means you can replace as many as three teeth with just a pair of implants integrated with your jawbone.
Missing Teeth on Opposite Sides of Your Mouth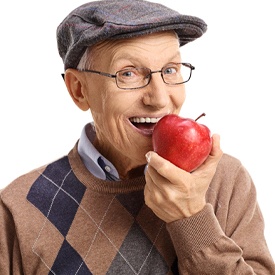 What do you do when you have multiple missing teeth on opposite sides of your mouth? Thankfully, you can still make use of dental implants! While it largely varies depending on the specific teeth you are missing, there's a possibility that we only need to place a couple of dental implants to provide your partial denture the stability it needs. As you complete your consultation, we'll evaluate your mouth and confirm the best treatment options available to you.
Benefits of Implant-Retained Bridges
By using dental implants to hold either a bridge or partial denture in place, you're able to receive far more long-term benefits for your tooth replacement. This includes:
A stronger and more reliable biting force, meaning you can eat the foods you enjoy without worry.
A healthier jawbone, which improves biting force but also dramatically reduces the risk of future tooth loss thanks to constant bone stimulation the implants provide.
The ability to maintain your existing enamel structure, which traditional dental bridges do not.
A more natural-looking smile and overall appearance.
A tooth replacement solution that lasts 30 years and longer on average.