Cost of Dental Implants – Acworth, GA
Invest in a Complete Smile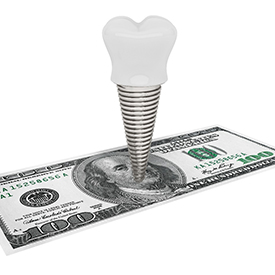 Despite modern advancements in dentistry, tooth loss is still a common problem. Although dentists can preserve natural teeth for longer, at least 120 million Americans have an incomplete smile. Nowadays, there are more options than ever to fill the space; however, only one solution recreates the entire structure of the tooth. A dental implant closely mimics your natural tooth. You've probably heard about their benefits, but you're concerned about the cost of dental implants. There isn't any reason to worry. We offer the affordable options you need to replace your missing teeth without draining your wallet.
Types of Dental Implants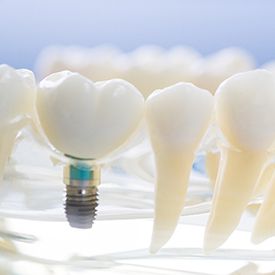 There isn't a set price tag for dental implants because the cost is determined by your specific treatment plan. There are various factors the influence the amount you'll pay, like the number of teeth you're missing and if you require additional procedures. We'll provide you with a custom estimate during your initial consultation.
What are the Stages of Dental Implant Treatment?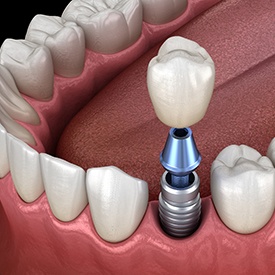 Unlike traditional prosthetics, replicating a tooth will a dental implant involves a multi-step treatment process that can take several months to complete. Each phase has separate fees, which can make it easier to afford your new smile because you won't need to pay the entire amount upfront. While every plan differs, most patients need to pay for:
Initial Consultation: Besides a visual examination, you'll also need a CT scan.
Additional Treatments: Many patients need additional procedures, like periodontal therapy or bone grafting.
Placement Surgery: A titanium implant post is surgically placed into your jawbone to act as a new root.
Abutment: Each post needs a special fixture called an abutment to secure the crown.
Restoration: Recreates the surface of your missing tooth above the gum line using high-quality material.
Are Dental Implants Worth the Investment?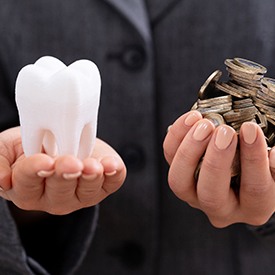 It's true you'll initially pay more for dental implants than other treatments, but they are the most cost-effective long-term. Dental implants have over a 95% success rate to last for decades with the right aftercare, like maintaining your oral hygiene. They are predictable and reliable, so you should never need to pay to have them replaced.
You'll save even more money down the road because a dental implant keeps your jawbone strong to prevent your teeth from moving out of alignment. It will preserve your natural smile to prevent common issues associated with tooth loss, lowering your overall oral health expenses.
Does Dental Insurance Cover Dental Implants?
Most plans can be used to help offset the cost of certain steps in your plan, like the consultation, periodontal therapy, or the restoration. After reaching your deductible, you can use your coverage to lower the amount you will pay until hitting your annual limit. We'll help you maximize your policy to keep your new smile within your budget.
Schedule Your Consultation
If you're ready to invest in your smile, contact our office today to see if you're a candidate for dental implants. We'll treat your tooth loss using a solution that fits your budget.