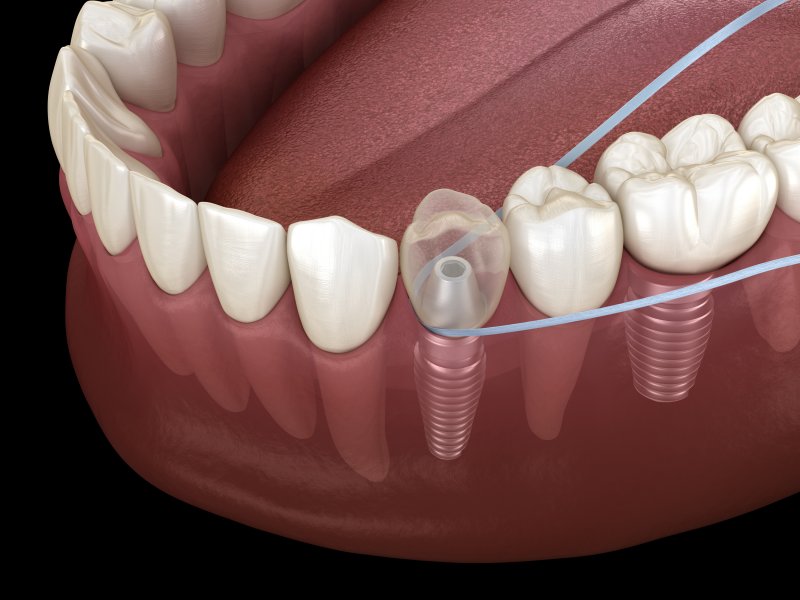 If you have missing teeth, you have a variety of different options when it comes to replacing them. One method that is preferred by both dentists and patients is dental implants. This is because they have so many benefits over other methods. This includes maintaining the integrity of the jawbone, restoring almost full chewing power, and lasting upwards of 25 years. However, they won't last that long if you don't take care of them properly with a good oral hygiene routine, and that includes flossing. Flossing dental implants may seem tricky. Continue reading to learn some tips from your dentist.
Why Is Flossing So Important When You Have Dental Implants?
Dental implants are resistant to tooth decay, but this doesn't mean that you can neglect flossing. The soft tissue that surrounds your teeth is even more susceptible to gum disease than the tissue around your natural teeth. The reason for this is because your gums adhere better to your natural teeth by the periodontal ligament. However, when you have dental implants, there is a much weaker seal called a peri-implant seal. If this breaks, bacteria can easily enter the pocket and have access to the jawbone. This will not only lead to periodontal disease, but can even affect the fusion between the implant and your jawbone.
How Do You Floss Between Dental Implants?
You may be asking yourself: "Am I maintaining my dental implants properly?" In order to answer this, you must know if you are flossing correctly. It doesn't matter what time of day you floss as long as you do it at one point or another. This is necessary in order to remove food debris that finds its way between the teeth and beneath the gumline. Make sure you are doing the following:
Start with about 18 inches of dental floss.
Wrap the floss around your middle fingers and leave about two to three inches between your hands to floss with.
Gently slide the floss up and down between the teeth. Rub alongside the dental implant and crown.
Floss around the base of the teeth.
Work the floss up and out of your teeth in a gentle manner.
After each tooth, move to a clean area of the floss so you prevent spreading food particles and bacteria to other parts of your mouth.
If you keep up with good oral hygiene, including the use of a good flossing technique, you will be able to show off your dental implants for many years to come.
About the Author
Dr. John Hamel is a well experienced dentist whose career has spanned for more than four decades. He is a member of numerous organizations including the American Academy of Cosmetic Dentistry, American Dental Association, and the American Academy of Implant Dentistry. For more information on how to keep your dental implants healthy or to schedule an appointment at his office in Acworth, visit his website or call (770) 426-9994.