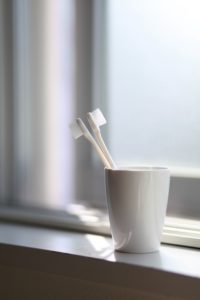 Did you know at least 92% of adults have had at least one cavity in a permanent tooth? Modern dentistry supports using fluoride and it's also added to many public water systems to prevent tooth decay. Although it's known as "nature's cavity fighter," it's normal to have a few concerns. Long-term exposure to high levels of fluoride can cause a condition called skeletal fluorosis, which results in too much fluoride in the bones, leading to pain, stiffness, and weak bones. As more Americans pay attention to what they are putting into their bodies, there are many alternatives to fluoride. Here are 4 options for holistic cavity prevention without fluoride. 
1. Improve Your Oral Hygiene
Your home oral hygiene routine is your first line of defense against cavities. The American Dental Association recommends brushing your teeth at least twice daily, if not after every meal. Use a soft-bristled toothbrush and nonabrasive toothpaste to clean all surfaces of your teeth for at least 2 minutes. Besides brushing, don't forget to floss daily or you'll leave up to 40% of your teeth uncleaned. Use high-quality floss to clean between each tooth and around the gum line.
2. Eat a Nutritious Diet
The foods and drinks you consume can help or harm your smile. It's best to have sugary and starchy foods or drinks in moderation. Drink plenty of water to keep your mouth moist and your body hydrated. Choose nutritious fruits and vegetables to provide your body with vital nutrients that support your oral and general health. They can also act as scrub brushes and increase saliva production to keep your teeth clean between brushing and flossing.
3. Rinse Your Mouth
If you can't get to your toothbrush, rinse your mouth with water after eating. It will help cleanse your teeth to remove any lingering sugar. You can also chew a piece of sugarless gum to stimulate saliva production.
4. Visit a Holistic Dentist
Besides caring for your smile at home, you should see a holistic dentist every 6 months for a cleaning and checkup. They'll remove any buildup and detect weak spots in your enamel while they are still small. With a focus on the mouth and body connection, they'll create personalized treatment plans that align with your overall wellness to help you prevent cavities the natural way.
You can achieve and maintain a cavity-free smile without fluoride. If you're interested in biocompatible solutions to improve your dental health, a holistic dentist can help. They'll design the fluoride-free plan you need to ensure your smile stays healthy and beautiful for a lifetime.
About Dr. John Hamel
Dr. Hamel earned his dental degree from the Emory School of Dentistry and has completed advanced training at Baylor University and the Las Vegas Institute. He regularly furthers his education to provide modern dental services with a holistic approach. Dr. Hamel focuses on whole-body wellness to support a healthy smile. If you are interested in fluoride-free solutions, contact our office today to request your consultation.