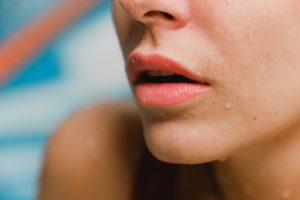 Your teeth and gums aren't the only components of a healthy smile. Believe it or not, your lips are equally important. While you don't have to worry about tooth decay or gum disease affecting their health, you should be aware of certain risks that can harm your oral and general health. The summer sun can be brutal on your lips if you aren't careful. Unfortunately, a sunburn isn't the only danger. Here's what you need to know to protect your lips from the sun. 
Protect Your Lips from Oral Cancer
Over 54,000 people are diagnosed with oral cancer annually. Although it's treatable, only 50% of patients survive 5 years or more. The high mortality rate is associated with late detection. Many people don't believe they're at risk, especially if they don't smoke. Tobacco isn't the only risk factor for oral cancer. Sun exposure is a common culprit of cancer affecting the lips.
Protecting Your Lips During Summer
You don't have to spend summer inside to avoid chapped lips or to lower your risk of oral cancer. Here's how you can soak up the sun without compromising your beautiful smile:
1. Use Sun Protection
Your lips aren't immune to the sun's radiation. Sunscreen or an SPF lip balm can shield them from the sun's harmful rays. Although sunscreen is effective, it is best to use a moisturizing SPF lip balm, which should be applied at least every 2 hours. Not only will you reduce your risk of cancer, but also chapped lips. Don't forget to drink plenty of water to stay hydrated while also keeping dry skin at bay.
2. Choose the Right SPF
Most sun-protecting lip balms range from SPF 15 to SPF 30. The smaller the SPF, the fewer UVB rays are filtered out. SPF 15 has been shown to block about 93% of rays, while SPF 30 filters about 97%. The difference is minimal, but the American Cancer Society says a higher SPF can have a bigger influence on protecting your skin.
3. Treat Sunburned Lips
If your lips are redder than usual or tender to the touch, they may be sunburned, especially if small, white blisters develop. Soak a washcloth in ice water and apply it to the burned tissue. You can also use 100% aloe vera to soothe the skin. It can take 3-5 days for a mild sunburn to improve.
Schedule an Oral Cancer Screening
Researchers believe 80% of new oral cancer cases can be diagnosed early through routine dental care. Besides a cleaning and checkup, your dentist can perform an oral cancer screening to ensure summer doesn't compromise your smile.
About Dr. John Hamel
Dr. Hamel earned his dental degree from the Emory School of Dentistry and has completed extensive continuing education to provide advanced training. He focuses on the mouth and body connection using holistic solutions. If it is time for your new preventive visit, contact our office today to schedule an appointment.