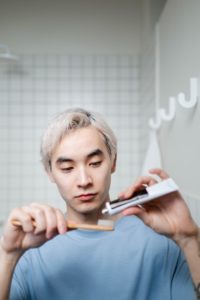 People throughout the country are considering the footprint they leave on the environment. Besides recycling, planting trees, and watching your water usage, there are other ways you can make a difference. April 22nd is Earth Day, which marks the anniversary of the modern environmental movement in 1970. There isn't any better time than now to revamp your brushing and flossing routine with eco-friendly oral hygiene products. Here are 4 amazing alternatives to reduce your footprint on the planet while supporting your dental health.
1. Bamboo Toothbrush
There are over 7 billion people on Earth, most of which use a toothbrush daily. Since toothbrushes have to be replaced every 3-4 months, the amount found in landfills is astonishing. You can keep one less toothbrush out of the dump by choosing a biodegradable solution when switching to a new brush. Bamboo is sturdy and grows quickly, so it replenishes easily.
2. Eco-Friendly Floss
Daily flossing is crucial for keeping your gums healthy. Unfortunately, the plastic containers, picks, and floss aren't so great for the environment. Silk and other biodegradable materials are as effective as traditional floss when used correctly. Many eco-friendly flosses come in cardboard packaging to further reduce waste.
3. Water Pik
You can save money long-term by investing in a water pik. Not only is it more effective than regular floss, but it eliminates waste. A high-powered stream of water cleans between each tooth. You'll protect your smile and the planet using the reusable option.
4. Zero-Waste Mouthwash
Mouthwash can complement any oral hygiene routine by eliminating any bacteria left behind by your toothbrush and floss. However, most mouthwash comes in big plastic bottles. As an alternative, you can choose a zero-waste option with mouthwash tablets. They often come in recyclable glass containers. Simply mix the tab with water and rinse as usual.
Don't Forget to Visit Your Dentist
Your oral hygiene at home is your first line of defense against common dental issues, like tooth decay and gum disease. Even with the best products, brushing and flossing aren't enough to safeguard your smile. The American Dental Association also recommends semi-annual cleanings and checkups.
With a dentist who understands the mouth and body connection by your side, they'll help you maintain a healthy smile using solutions that promote your wellness and the planet. From tooth-colored fillings to metal-free restorations, you can benefit from biocompatible solutions to support your oral and general health.
In honor of Earth Day, recommit to your dental health while reducing your impact on the environment. If you have any questions about the oral hygiene products you use at home, your dentist has the information you need to make the best decision for your smile.
About Dr. John Hamel
Dr. Hamel earned his dental degree at the Emory School of Dentistry and completed additional training at Baylor University and the Las Vegas Institute. He understands the mouth and body connection, aligning his services to support a patient's general wellness. If it is time for your next cleaning and checkup, contact our office today for an appointment.