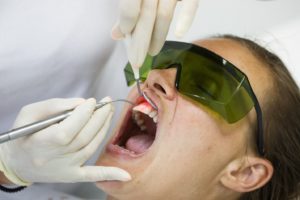 Are you tired of extra gum tissue hiding your teeth? Maybe periodontal disease damaged your gum line? No matter the reason, the health and appearance of your gums are important for a beautiful smile. Your dentist can create the smile of your dreams using gum recontouring, but is it safe? Thanks to the latest dental innovations, it's safer than ever.
What is Gum Recontouring?
Gum recontouring is a procedure used to remove extra tissue to resolve a gummy smile. It can also improve an uneven gum line. Although it's most often used for cosmetic reasons, it also has restorative benefits. Modern gum recontouring uses a soft tissue laser, making it an effective option to treat gum disease. Technological advancements make the procedure safe with virtually no risks when you choose a qualified dentist for laser dentistry.
Is Laser Gum Recontouring Safe?
Traditionally, a scalpel and sutures were necessary when treating a gummy smile. While the procedure was effective, there were potential risks. Laser dentistry has transformed the entire procedure to make it less invasive and safer.
Instead of a scalpel, your dentist uses a small handheld device that emits a highly concentrated beam of light energy. This provides pinpoint accuracy to remove only the intended tissue for precise results. There's less room for error to ensure you achieve the outcome you want.
As the laser removes the tissue, it also sterilizes the area, which is why it can aid the treatment of gum disease. The laser can kill over 99% of bacteria to promote healthy gums while lessening the risk of post-operative infections. The benefits don't end there. The laser also cauterizes the tissue, so there's minimal bleeding and no need for sutures.
Not only is the procedure virtually pain-free and safe, but you will also enjoy a quicker recovery. You'll have a decreased risk of infections, bleeding, and swelling. After just 1-2 weeks, your gum tissue will be completely healed.
How Successful is Gum Recontouring?
The procedure is extremely successful, but various factors affect the outcome of gum recontouring, like your oral hygiene during and after the recovery. Your dentist will explain how to care for your healing smile to lessen the likeliness of complications, like an infection.
Besides keeping your mouth clean, you'll want to skip eating tacos for a few days. Instead, stick to softer foods that don't require you to bite into them. You may also want to avoid anything acidic or spicy to prevent any unnecessary discomfort.
If you're ready to improve your smile, you deserve to benefit from the best. Choose a qualified dentist for laser gum recontouring for a nearly risk-free investment in a healthy, beautiful smile.
About Dr. Andrew Vita
Dr. Vita earned his dental degree from the Dental College of Georgia. He strives to provide the latest dental products, treatments, and technologies to help each patient reach optimal health and wellness. If you're interested in enhancing your gum line, contact our office today to schedule your consultation.