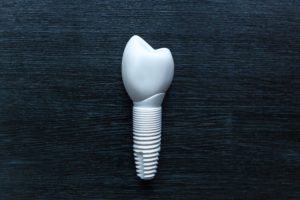 A dental implant is unlike any other tooth replacement because it recreates both the root and crown. The foundation of the restoration is an implant post, which serves as a new root. Traditionally, posts are made of titanium because it integrates well with bone. It is also lightweight and durable. Although it has its advantages, titanium also has its risks. As an alternative, posts can be made of zirconia or ceramic. They are completely metal-free, which allows them to look natural, while also eliminating certain complications, like an allergic reaction. If you're skeptical about their benefits, don't discredit them yet. Here are a few reasons to reconsider metal-free implants.
Benefit from a Metal-Free Solution
Metal-free dental implants provide a plethora of benefits when compared to titanium; however, their biggest appeal is their biocompatibility. Although titanium is nonreactive, stable, and more durable than other metals, the posts often contain a mixture of materials, which can cause allergic reactions. Zirconia and ceramic implants are 100% metal-free, so you aren't exposed to any toxic materials that might compromise your health or new smile.
Titanium VS Zirconia Implants
Both metallic and zirconia implants have about the same durability and price, but there are significant differences between biocompatibility and aesthetics. While titanium often integrates well with the body, it can trigger an immunological response that can lead to discomfort and implant failure.
Current evidence has also found titanium can corrode in the oral environment. The corrosion can trigger an autoimmune response, particularly among individuals who are prone to metal allergies. Zirconia doesn't corrode, eradicating the risk of negative reactions. Since zirconia is metal-free, it doesn't conduct electrogalvanic fields through the mouth and head, either.
Research has also found zirconia reduces plaque adhesion to prevent infection. Peri-implantitis is a preventable infection, but it is a leading cause of implant failure. Zirconia can safeguard your smile from the infection while also increasing blood flow to the soft tissues to keep them healthy.
Besides an improved success rate, many patients find zirconia more aesthetically pleasing, too. Although your jawbone hides the implant post, metal can be more easily detectible. You won't have to worry about the darkening of the tissue near the gum line because zirconia closely matches the color of the root. Your new smile will look natural from the very tip of the post to the surface of your restoration.
Invest in a Biocompatible Solution
Dental implants are a big investment. Your holistic dentist will explain all your options to make the safest choice for your smile. You'll enjoy a lasting solution that supports your overall wellness while enjoying a complete smile again.
About Dr. John Hamel
Dr. Hamel worked as a dental laboratory technician before earning his doctorate. He is one of a few holistic dentists in the greater Atlanta area. With his commitment to continual learning and biological expertise, you can feel confident your smile is in good hands. Contact our office today to see if you're a candidate for metal-free dental implants.