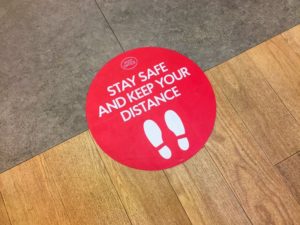 One of the biggest changes to our everyday lives brought about by COVID-19 has been social distancing. In stores and offices across the country, visitors are being asked to stay at least 6 feet apart from each other for the lowest possible risk of spreading an infection. As dentist safety protocols have evolved to accommodate for current health concerns, social distancing has been adapted to dental practices as well – but how is this possible? Read on to learn about 3 simple steps being taken to control the flow of patients in a dental setting so that everyone stays safe.
1. Virtual Waiting Room
You're probably familiar with the traditional routine of checking in at the front desk, then settling down in the waiting room until your appointment. Nowadays, however, the process has evolved so that you won't have to spend more time in the office than absolutely necessary. Once you arrive at the practice, instead of going inside right away, you'll stay in your car and call a specified number (or respond to a text) in order to let the staff know that you're waiting. That way, you can stay in the comfort and safety of your own video until your dentist is ready to begin the actual treatment.
2. Spaced-Out Scheduling
Of course, there is a very simple way to make it easier to keep patients apart: simply see fewer patients at a time. Dentists are now spacing individual visits further apart so that patients have plenty of time to check-in, complete any necessary screening procedures, receive the necessary treatment, and check out while keeping the risk of unnecessary contact to a minimum. This is especially important for patients that are at particularly high risk from COVID-19 (meaning patients over the age of 65 or those with health conditions such as a compromised immune system).
3. Fewer People in the Office
In addition to limiting the number of patients that are at any given time, dentists are simply permitting fewer people overall into their offices. For example, if you often bring your children with you to your visits, you may be asked to leave them at home. Of course, there are situations where bringing extra people along with you is actually necessary (such as if you need a trusted adult to drive you), but such decisions will need to be made on a case by case basis.
Social distancing may change the flow of your routine visits, but it's all in the name of stopping the spread of infections and disease. With social distancing in place along with other protocols for keeping the treatment area and equipment clean, you won't have any reason to worry when the time comes for your next checkup.
About the Author
Dr. John Hamel began his dental career in 1975. He considers dentistry to be using a blend of art and technology to provide good health as well as dazzling smiles. His practice, Biologic Dentistry, is being very particular about enforcing social distancing and other precautions in order to protect the health of Acworth patients. To schedule an appointment or ask about the changes that the practice has undergone, visit his website or call (770) 426-9994.