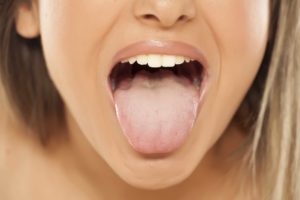 If you brush and floss regularly, it's easy to assume that you're doing a great job of maintaining your oral hygiene. But while brushing and flossing are great for removing plaque from your teeth and gums, you wind up leaving a lot of bacteria on the surface of your tongue where it can lead to several oral health problems. One common question people have for their dentist is, "Should I scrape my tongue to keep it cleaner?" Keep reading for the answer to that question below!
What Is a Tongue Scraper?
A tongue scraper is a flat, rounded, U-shaped tool (usually made of plastic or metal) that's used to gently scrape over the surface of the tongue. It's shaped just the right way to remove as much bacteria from the tongue as possible while still being comfortable to use.
The Benefits of Tongue Scraping
Your tongue is covered in hundreds or even thousands of tiny "hairs" called papillae, in addition to countless taste buds of various shapes and sizes. These structures create a lot of nooks and crannies that can trap plaque, bacteria and food debris. If not removed on a daily basis, these substances can contribute to cavities, gum disease and bad breath.
While brushing your tongue with your toothbrush is certainly an option, chances are you'll be more effective with a tongue scraper. Here are some of the benefits you'll get from scraping your tongue each day:
Your tongue will look and feel cleaner.
You'll have fresher breath and a lower risk of cavities and gum disease.
Your sense of taste may even improve.
How Should You Scrape Your Tongue?
Tongue scraping is fast and easy. Gently hold onto each handle and place the U-shaped part of the tongue scraper on the back of your tongue (no farther than is comfortable). It's designed to minimize triggering the gag reflex, so even people who gag easily can often use a tongue scraper without any problems. If you find that it's still an issue, you can try scraping your tongue at night rather than in the morning when the gag reflex is more sensitive.
Of course, the foundation of your oral hygiene routine is brushing at least twice a day, flossing once, and getting regular checkups and cleanings. But when you combine these habits with tongue scraping, you can look forward to better oral health, fresher breath, and improved overall well-being.
About the Author
Dr. John Hamel has been a family dentist for 35 years. In that time, he's found that patients with good oral hygiene have fewer dental problems, so he and his team always provide tips to help their patients keep their teeth, gums, and tongue clean. If you'd like to know more about tongue scraping or have any questions, he can be reached via his website.