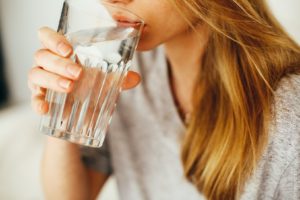 Summer is right around the corner, which means plenty of time spent outdoors soaking up the sun and warmer temperatures. Whether you're having a picnic, sitting by the pool, or spending a day at the lake, it's time to drink more water. If you aren't careful, dehydration can occur quickly. Losing just 1% to 2% of your body's water can affect your functioning and lead to life-threatening complications if you don't act fast. Here are 5 subtle signs of dehydration to watch for to ensure nothing dampers your summer plans. 
1. Dry Mouth or Bad Breath
Everyone has bad breath occasionally, like after eating onions or garlic bread; however, it can also be a sign you're not hydrated. If your mouth isn't producing as much saliva, it increases odor-causing bacteria. Drinking a glass of water may be all you need to stop the odor while keeping your mouth moist.
2. Cramps or Muscle Spasms
Dehydration can deplete your body of vital minerals, like sodium and potassium. The electrolyte imbalance can affect pH levels in your body, which can affect the nervous system. If you are taking a walk and you feel pain or tightness in a muscle, it can indicate mild dehydration. It's important to pay attention to any involuntary muscle spasms or painful cramps.
3. Headache
It's not unusual for dehydration to trigger migraines, which may be caused by the brain tissue shrinking from lack of water. Although an OTC pain reliever can stop your discomfort, it's also a good idea to drink a glass of water, too.
4. Dark Urine
The color of your urine is a good indicator of your hydration. It should be a pale yellow color, which becomes clearer the more you drink. If your urine is dark, it's time to drink up. Depending on the darkness, it may take more than one glass to rehydrate your body.
5. Dizziness or Lightheadedness
Feeling dizzy or lightheaded are common signs you're not getting enough water. You may even feel a little nauseated. You may not be coming down with a stomach bug. Your symptoms can be caused by inadequate hydration.
Tips for Staying Hydrated
Drinking water isn't the only way to help you stay hydrated during the warmer months. Other foods and liquids with high water content can keep dehydration at bay, like watermelon or a smoothie. However, avoid anything with high sugar, salt, or alcohol content because they can increase the risk of hydration.
The amount you need to drink varies on several factors, like your activity level. As a general rule of thumb, take a few sips of water every 15 to 20 minutes. You can look forward to a great summer by staying hydrated throughout the day.
About Dr. John Hamel
Dr. Hamel earned his dental degree from the Emory School of Dentistry and has completed advanced training at Baylor University, Las Vegas Institute, and the Institute for Oral Art and Design. He supports the mouth and body connection to promote optimal wellness. Contact our office today to schedule an appointment.