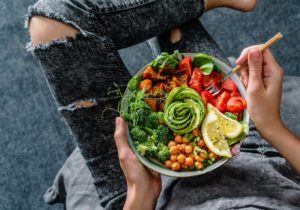 Many people choose to stop consuming animal products for ethical reasons, while others do so to improve their overall wellness. They find that it is enjoyable to explore new recipes and discover a wide variety of plant-based foods. But could forgoing animal products actually be bad for your teeth and gums? Let's talk about how a vegan diet affects your oral health.
Nutritional Deficiencies
It is certainly possible to get all of the nutrients your body needs without the consumption of any animal products. However, a word of caution is in order. Without proper dietary planning, you might become deficient in key nutrients that are important for oral health. For example, not eating dairy could have a negative effect on your calcium intake. And many rich sources of vitamin B-12 (which is important for gum health) come from animals.
To avoid these nutritional deficiencies, it would be wise to do some research on plant-based sources of key vitamins and minerals. Broccoli is a good source of calcium, and nutritional yeast can provide you with B-12.
Constant Snacking
Many foods that vegans and vegetarians consume have fewer calories than animal-based products. To meet your body's energy needs, you might find that you eat more frequently than you did before you said goodbye to meat and dairy. Constant snacking extends the length of time that your teeth are exposed to harmful acids.
To address this issue, be sure to sip on plenty of water after you snack, and never neglect your oral hygiene routine. It's also advisable to eat primarily foods that are low in acid.
A Lack of Remineralizing Foods
Your teeth lose tiny bits of enamel through everyday wear and tear. Some foods help to replace that lost enamel through a process known as remineralization. For example, red meat and seafood are considered to be rich sources of phosphorous. Red meat even contains a certain amino acid that has been shown to help break down dental plaque.
Of course, there are also plant-based foods that aid in remineralization. Oatmeal and lentils are just a few good sources of phosphorous that are acceptable for vegans.
Talk to Your Dentist About Maintaining Your Teeth
Your dentist wants to help you protect your teeth and gums without compromising your nutritional beliefs or ethical convictions. If they notice that your diet might be responsible for the development of certain oral health problems, they will alert you to the issue and help you develop a plan to get your smile's well-being back on track.
A vegan diet has the potential to damage your teeth, but it is unlikely to harm your smile if you take a few simple precautions.
Meet the Practice
Dr. John Hamel is a holistic dentist in Acworth with many years of experience. He seeks to promote his patients' overall health, and he recognizes the many benefits that come from a plant-based diet. If you would like to talk to him about how your nutritional choices may be affecting your oral health, contact our practice at 770-426-9994.