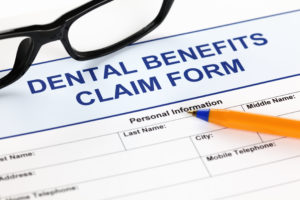 Each year, millions of men and women across the U.S. choose dental implants to replace their missing teeth. Are you considering implant treatment? If you are currently weighing the pros and cons of different tooth replacement options, you are probably wondering what role your dental insurance will play. While insurance regularly covers things like biannual checkups, it's a bit more complicated when it comes to dental implants. Keep reading to learn when dental insurance covers implant treatment and how you can get the most out of your insurance benefits.
What to Ask Your Insurance Provider
If you are considering getting dental implants, you should first call your insurance provider and ask if they provide full or partial coverage for implant treatment. Although dental implants are growing in popularity, many dental insurance plans still do not cover them – so it's always smart to check your policy first.
If you would like help understanding your dental insurance benefits, do not hesitate to ask the staff at your dentist's office for assistance! Your knowledgeable dental team will be happy to walk you through the ins and outs of your plan.
How to Split Treatment Costs
If your dental insurance does cover at least a portion of dental implants, now may be the perfect time to get started on rebuilding your smile!
Any remaining dental insurance benefits will likely expire at midnight on New Year's Eve. By starting implant treatment now, you can use up your remaining 2020 benefits before they vanish. Then, next year, you can take advantage of your renewed benefits once you meet your annual deductible.
By splitting the cost of dental implants over two years, you can maximize your insurance coverage and save money!
What About Medical Insurance?
Although rare, medical insurance sometimes covers dental implants when a person's missing teeth result in medical complications. Here are a few examples of circumstances in which a person may be able to turn to their medical insurance for dental implant treatment:
Loss of teeth due to a car accident or other physical trauma
Missing teeth due to a medical condition
Loss of teeth in the course of tumor treatment
Congenitally missing teeth
Insurance Coverage for Preliminary Treatments
Even if your dental insurance plan does not cover implants, you may still have some options to lower related costs. Many patients are able to take advantage of their insurance benefits to cover the cost of preliminary treatments, such as:
Initial consultation – Ask your dentist about implants at your next routine checkup, which are typically covered by insurance at 100%.
Bone graft – If deemed medically necessary, this procedure to strengthen the jawbone may be covered by your insurance.
Gum disease therapy – Infected gums can prevent successful implantation. Treatment for gum disease is usually covered to some degree by insurance.
Kick off the new year with a new smile thanks to dental implants! Talk to your dentist today to get started with implant treatment or if you have further questions about your insurance coverage.
About the Author
Dr. John Hamel has over 30 years of experience helping patients rebuild their smiles with restorative dentistry. An active member of the American Academy of Implant Dentistry, he offers start-to-finish implant treatment at Biologic Dentistry in Acworth, GA. To learn more about dental implants, visit the Biologic Dentistry website or call 770-426-9994.