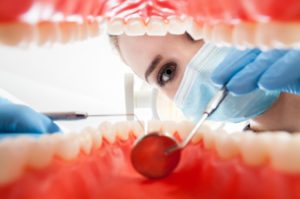 Having healthy gums is very important to your oral health overall. Without them, you won't be able to keep your teeth in your jaw for very long. However, having healthy gums doesn't necessarily mean that you're happy with your smile. In fact, the so-called "gummy smile" is more common than you'd think. That's why dentists now offer gum recontouring in Arcadia to adjust the amount of gum visible in your smile.
But how does treatment work? How do you know if you should receive it? A dentist answers those questions and more.
How Does Gum Recontouring Work?
Gum recontouring, also known as reshaping, is a common treatment designed to remove a minimal amount of gum tissue in order to expose more of your teeth. This process can be completed with different types of dental tools, however many dentists are opting for soft tissue lasers because of their precision and comfort provided to the individual.
After having a consultation with the dentist on your needs, you'll receive a mild anesthetic to make you as comfortable as possible during your treatment. If the dentist is using a soft tissue laser to perform treatment, it's likely that you will need little to no anesthetic depending on your sensitivity. After carefully stripping away excess gum tissue, your smile will be far more visible, making you more confident to show it off to friends and family.
When is Treatment Appropriate?
Gum recontouring is largely seen as a cosmetic treatment, however it has many restorative functions as well. Treatment is entirely appropriate for removing excess gum tissue covering teeth and evening out the gum line after recession occurs, but it can also be helpful in periodontal therapy applications. If dentists need to counter decay, tooth loss, gingival infections or periodontal disease, gum recontouring is likely appropriate. If you have multiple pockets in between teeth, which often act as hollows for bacteria, plaque and food debris to fester in and spread disease, gum recontouring may be right for you.
What Can You Expect in Aftercare?
Soft tissue lasers are often used for this sort of treatment because it seals gum tissue on contact, allowing for more effective healing and shorter recovery times. However, you'll still need to practice good dental hygiene, especially over the next couple of weeks afterwards.
Until your gums have fully healed, brushing and flossing should be as gentle as possible to avoid irritating your sensitive gum tissue. Brushing too hard or for too long can easily result in bleeding gums or infection development, but the risk is even higher after gum recontouring. The dentist will go over all your aftercare steps in more detail to prevent this issue.
You shouldn't have to settle for a smile that you're embarrassed to show off. Schedule an appointment with a dentist to learn if treatment is right for you!
About the Author
Dr. John Hamel earned his DDS degree from the Emory School of Dentistry. Since then, he's completed the Masters of Aesthetic Course at the Las Vegas Institute for Advanced Dental Studies and had training at the Institute for Oral Art and Design. This training, along with his membership in the American Academy of Cosmetic Dentistry, further proves his abilities in helping you achieve your ideal smile. To learn more about his practice, you can contact him through his website.